Hello people, my name is Girl, Dislocated and I'm here because Angela's too busy honeymooning in Italia to entertain us with her The Hills recaps, take us through the scientific process of buying shoes, or give us a peak into her witty inner conversations. When I got her very sweet email asking if I would guest blog while she was away, I felt quite underqualified for the job because, as the Asian kid from School of Rock would say, "I'm not cool enough." Also, I was kind of surprised she wasn't going to be blogging from Italy, considering she blogged on her freaking WEDDING DAY! But I think I have her figured out: she secretly loves the idea of rubbing it in our faces that she's cavorting around in Europe, and figured enlisting guest bloggers to remind us of the fact everyday was a more subtle alternative to daily "Guess what I'm doing now?!" posts. I'll admit I've been just as jealous as everyone else over this past week, but I like Angela and really don't want to have to hate her for being in Italy, even if it is a country I've always wanted to see. With some rational analysis and a little self-deception creativity, I'm pretty sure I can manage to convince myself that I'd be having an awful time if I was in Italy.
No, I totally don't wish I was in Italy now, considering what a fiasco it would end up being. For one thing, my entire life is an ongoing demonstration of Murphy's Law. For another, my body is very sloppily held together. Not to get all DiscoveryHealth on you, but my limbs are constantly popping out of place due to a genetic mutation that affects the connective tissue in my body. To make things a little less fun for me and a little more amusing to spectators, I'm also exceptionally clumsy. This trifecta of chronic bad luck, errant limbs, and clumsiness has landed me in enough odd predicaments that I've devoted an entire blog to chronicling them all. To convince myself that a trip to Italy would involve all sorts of international mishaps, all I have to do is look back at my recent stays in Egypt and remember some of the craziness that went down over there. Like the time I was involved in a taxi accident. Or the time I dislocated my shoulder on the 8th floor of an apartment building just in time for the power to go out and the elevators to stop working. Now why would I want to go to Italy and end up having to extricate myself from a mess like that?
But then again, why have such a negative attitude? So my last stay in Egypt wasn't exactly carefree--who says all of my travel plans have to plagued by the same complications? Is it really all that far-fetched to think that I could vacation in Italy without finding myself in some bizarre dilemma? What if I brought tons of duct tape and medical supplies with me and was extra -- ok, extra extra -- careful? I've spent a minute entertaining that possibility and once again being jealous of Angela, but the following figure brought me back to reality: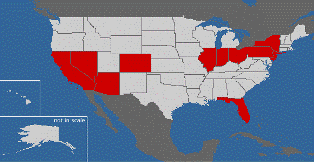 That's a map of all the states I've ever been to. It also doubles as a map of all the states in which I've ever: dislocated something, gone to the ER, been stranded, or experienced any other kind of miscellaneous misadventure. In other words, something has to go wrong wherever I go. As a matter of fact, Colorado is one state I ended up in unintentionally, as a result of one of my mishaps. The only places I saw in Colorado were the inside of an ambulance and the ER of a Denver hospital, which was much more than I'd intended to see of the state. Denver Airport was just supposed to be my layover between flights on my way to CA from NJ, but about half way through the flight to Denver, I dislocated my shoulder during a bout of severe turbulence. I can't decide which was worse: the embarrassment of being the subject of the "Is there a doctor onboard?" announcement, half the passengers turning around to get a good view of the doctor unsuccessfully trying to pop my arm back in, and being escorted off the plane by police and paramedics, OR, the pain of being tossed around with my arm still hanging out of its socket during the turbulent remainder of the flight and the rough landing.
After the ER doctors knocked me out, put me back together, wrapped me up in a shoulder brace that could double as a straight jacket, and woke me up again, I was given some forms to sign, presumably my discharge instructions (though in my drugged state, they could have handed me my own death certificate to sign and I wouldn't have known the difference.) I stumbled into a cab that took me back to the airport, and ended up catching a much smoother flight to CA the next day. I landed in Los Angeles with all my limbs exactly where they were at the beginning of the flight, but still couldn't go home yet because the person who was supposed to pick me up was waiting for me at the wrong airport. All in all, I think it took me about 24 hours to get from NJ to CA.
So do you see what happens when I try to travel??? This is why it's just as well that while Angela is in Italy doing honeymoon stuff, I'm stuck here in cold, boring New Jersey, with my only diversion being my W2's and my 1040. I'm much better off in the "safety" of my own house, really -- just ignore that time I racked up a $4,000 ER bill simply walking across my own living room. Oh, and the time I had to spend 10 hours in the ER just because I sneezed too hard.
Well, Angela, as you can see, I've done my best to pretend I'm not insanely jealous of you, and I know you completely deserve these two weeks in Italia, so I don't totally hate you... yet. We'll have to see how I feel when you post all the amazing pictures...